I thought I'd throw my unfounded hat into the
Origami
speculation ring.
Disclosure: my cousin works for Microsoft, which means absolutely nothing as it pertains to my status as an origami insider.
While most have
pretty much concluded
that Origami is a portable device or operating system, what I take from today's totally unhelpful video release is that Origami is some sort of portable hotspot technology. My scientific analysis comes mostly from the fact that it looks like a wireless network (especially on top of that mountain!).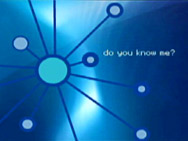 (this image from ABC News...er... Disney... er... Apple, whoever)
Besides, if it was some kind of portable device or operating system, hell you can take a laptop all the places that they take origami in that video, so why market it that way??
We shall see. As the well trained Apple groupee that I am, this marketing ploy will work on me and I'll be checking back on March 9th for the big reveal.